Did you know that there is a voluntary organization called The Innovation Center for U.S. Dairy? The organization was founded by America's dairy farmers and they have set an aggressive environmental sustainability goal to achieve carbon neutrality (or better), optimize water usage and improve water quality by 2050. As is, dairy farmers have done an incredible job providing nutritious food to the world while minimizing their environmental hoofprint. As shown within the chart below, annual milk productivity in the U.S. continues to reach new heights, all while the herd size has remained relatively stable over the past 20 years. From the year 2000 to 2020, US milk increased 33% or by 55.827 billion pounds, while the herd size only grew 2% or by 189,000 head as improved genetics and feed technology propel yields and make cows more efficient. According to The Dairy Alliance, of which HighGround Dairy is a proud member, the dairy industry accounts for only 2% of total emissions in the United States.
All of us that are a part of this unique industry know first-hand that dairy products are a rich source of essential nutrients. Given the rise in global population, paired with more weather anomalies around the world, demand for high-quality animal sourced protein is increasing globally. The Food and Agriculture Organization (FAO) of the United Nations has recognized the growing need for dairy to participate in providing the world with a healthy and nutritious diet within their report titled Climate Change and the Global Dairy Cattle Sector. Another important fact that FAO has highlighted is how much people benefit from consuming milk and dairy products. They are nutrient-dense foods that supply energy and significant amounts of protein and micronutrients, including calcium, magnesium, selenium, riboflavin, and vitamins B5 and B12. As a result, FAO believes that dairy is essential in the endeavor towards ending hunger, achieving food security and improving the nutritional value of diets in a sustainable manner. And so do we!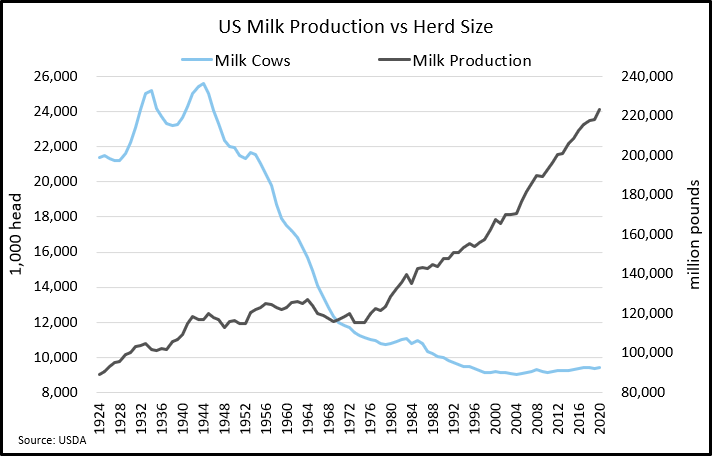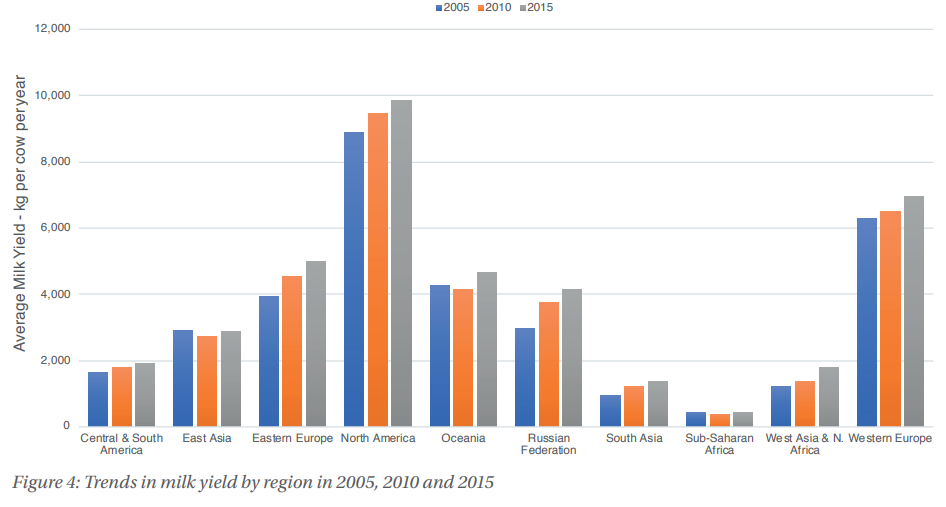 Graph Source: FAO
Going beyond greenhouse emissions, sustainability is becoming a consumer preference at an increasing rate. Heather Oldani, executive vice president of corporate communications for Dairy Management Inc (DMI), said consumers are increasingly looking for products they can consider "green" and companies and brands are making sourcing decisions based on sustainability commitments. She said DMI's Earth Day strategy focuses on reaching three audiences to build trust and sales: Thought leaders — those who consider themselves informed on the issues of the day; Conflicted health-seeker millennial parents – they are concerned not only about what they're feeding their kids, but also how it's made; and Gen Z (ages 10-23) — They are looking for authenticity and expect companies and brands to help them navigate the anxieties they face, particularly when it comes to global issues such as the environment.
Statisa confirms the sustainable food movement has gained traction in recent years, swept along with the popularity of the local food and organic food movements. They report that restaurants also seem to be embracing the sustainable food movement. In addition, many restaurants have started sourcing their produce locally, reducing food waste, and using natural ingredients, perhaps in an effort to appeal to environmentally conscious consumers. But something else happened during the pandemic -- while a record number of hurricanes, wildfires and floods cost the world $210 billion in damage last year, stay-at-home orders meant more adults spent time thinking about climate than they did before COVID-19 (source).
Sustainability is of critical importance to the dairy industry as farmers strive to feed a growing global population with healthy, nutritious food. On this Earth Day, HighGround Dairy celebrates the progress the industry has seen and the commitment that the Innovation Center for US Dairy has made to continue working toward a more sustainable future for all.
View the LATEST US Milk Production Report Today by requesting a FREE TRIAL